Cell Phone Recycling, Made Simple.
Print a shipping label – start by selecting a shipping method:
Donate and Recycle Cell Phones for Charity in 3 Simple Steps.
Looking to recycle something we don't accept? Contact us and we will help you find a solution.
Prepaid mailing label was provided promptly and instruction were concise and easy to follow.
Rapid e-mail response. Great web page with clear instructions on how to erase phones before sending for recycling. Thank you.…
Big Sky Recycling made recycling cell phones for the troops very easy. Thank you
It was very easy to work with Big Sky Recycling. Happy to have my old cell phones securely recycled.
Thank you for the wonderfully easy instructions and valuable service that benefits our Vets.
It was so easy and helps others!
Super easy to do. Great way to donate old phones for charity.
It was so easy to recycle our old cell phones.
This company is phenomenal. Thank you!
Big Sky Recycling made it extraordinarily simple to help out our troops.  Thank you.
This is a great service that's quick and easy to use.
Big Sky Recycling could not have made it any easier to recycle my cell phones!
Very easy to deal with. Highly recommend.
Easy to follow instructions. Great overall experience.
Made donating cell phones very easy! Response time was fantastic and helpful.
Very easy experience! Very rewarding!
So glad to find a place that helps our military and veterans.  It was simple and easy to recycle with…
Easy to donate! Boxed up my cell phones and took them to the post office.
Very satisfied. Thanks for your service to help those in need.
I found their service very easy to use. Recycling done the right way.
Easy way to give old cell phones a second chance for someone.
Simple. Only took a few minutes. So glad I found this site.
Easy to follow instructions and free shipping!  Thank You.
Very happy with Big Sky Recycling. It was an easy process to get a shipping label and schedule a USPS…
Quick response and easy to use service!
Peach of mind know your information is secure. Will definitely use this service again!
Easy to use. Simply print a shipping label, package your phones and drop in the mailbox.
Recycling and donating my cell phones was simple.  The instructions were easy and convenient.
A great way to help Soldiers and Vets. The service was seamless.
Great service. Nice to know your old phones are doing something worthwhile.
You can be confident that your personal data is secure. Big Sky Recycling follows strict standards of operation, ensuring data destruction on all recycled cell phones and electronics.
Big Sky Recycling only uses R2 certified recycling partners (Responsible Recycling). The R2 standard ensures that all data is fully wiped or physically destructed during processing, preventing any personal information from ending up in someone else's hands. This level of security is achieved through guidelines set by the National Institute of Standards and Technology (NIST). Certificates of Recycling and Data Destruction are available upon request.
For your convenience, we have also provided step-by-step instructions on how to remove accounts and erase data from your cell phone.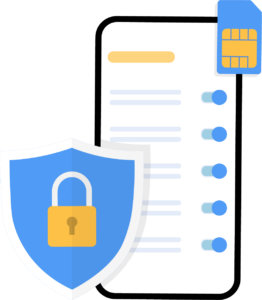 SelfPaid Shipping
(1-4 Phones)
Help us by paying for shipping. This allows us make a larger impact and provide more to charity.
PrePaid Shipping
(5+ Phones)
If you recycle five (5) or more cell phones, Big Sky Recycling will provide a free prepaid shipping label.