Cell Phone Recycling, Made Simple.
Print a shipping label – start by selecting a shipping method:
Donate and Recycle Cell Phones for Charity in 3 Simple Steps.
What is Big Sky Recycling?
Big Sky Recycling is the simple, secure and free way to donate and recycle cell phones for charity.
By harnessing the power of cell phones and electronics, Big Sky Recycling is dedicated to reducing e-waste and using profits to support environmental, social and military nonprofits.
Looking to recycle something we don't accept?? ?Contact us and we will help you find a solution.
Great place to recycle phones. Easy, fast response time. Highly recommend.
Great service, and the fact that you know your information is secure is a super plus! Would definitely use this service again!
You could not have made it any easier to recycle my flip phone! From erasing the data to mailing it back, thanks so much!
Very easy to send and recycle old phones!
Easy peasy, nice and easy. My old cell phone is on its way to help a service member. Thank you for making this possible!!!
I needed to clear my house of old cell phones and benefit the military; plus I was able to print the mailing address, take it to the post office and then forget about it. JOB ACCOMPLISHED! Thank you.
The ease of use for this company is phenomenal. I only had one question of which was answered almost immediately after asking. Thank you!
Very quick and easy experience. The mailing label was received promptly! Very rewarding!!
I love the fact that our military and veterans are helped by Big Sky Recycling. The process was quick and easy and I will definitely continue to recycle with Big Sky Recycling.
This was so easy for me to give my unwanted electronics a second chance for someone. Makes me feel good.
That was so easy!? I made a difference and made a green choice with a reputable company. Thank You. Spreading the word!
Very easy to use. Just print shipping label, package up phones and take to post office.
Fast response & easy to use!
I found their service very easy to use. Just print your label and ship.
Great experience. Easy to follow instructions. I asked for a receipt and received it within a few days.
Was easy and I appreciate being able to recycle electronics.
It was so easy to send our old cell phones to Big Sky Recycling. Loved that you paid the postage on our return to you with label that was sent via email.
Easy and I like the idea of helping others.
I donated 8 old cell phones and Big Sky Recycling made it extraordinarily simple!
It was very easy to work with these folks. I received the prepaid shipping label very quickly, and I was happy to have my old phones and laptop securely recycled.
You can be confident that your personal data is secure. Big Sky Recycling follows strict standards of operation, ensuring data destruction on all recycled cell phones and electronics.
Big Sky Recycling only uses R2 certified recycling partners (Responsible Recycling). The R2 standard ensures that all data is fully wiped or physically destructed during processing, preventing any personal information from ending up in someone else?s hands. This level of security is achieved through guidelines set by the National Institute of Standards and Technology (NIST).?Certificates of Recycling and Data Destruction are available upon request.
For your convenience, we have also provided?step-by-step instructions?on how to remove accounts and erase data from your cell phone.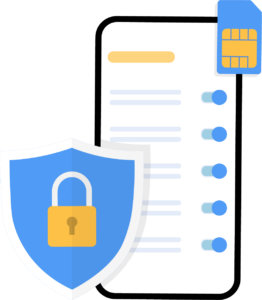 SelfPaid Shipping
(1-4 Phones)
Help us by paying for shipping. Saving Big Sky Recycling on shipping costs allows us make a larger impact and provide more to charity.
PrePaid Shipping
(5+ Phones)
If you plan to recycle five (5) or more cell phones, Big Sky Recycling will pay for your shipping costs by providing a prepaid USPS label.