A Better Way to Recycle
Our recycling program is the simple, secure and free way to donate cell phones for charity.
Here's how to donate and recycle your cell phones.
Print a Free Shipping Label
Collect your phones and print a label. Shipping is free when you donate five or more cell phones.
Print Your Label
Our step-by-step guide will show you how to erase your data, package and ship your cell phones.
Pre-Shipment Guide
Your cell phones will be responsibly recycled, with the data destroyed and help support those in need.
Who We Support
Five Star Service & Support
Don?t just take our word for it, see what everyone else is saying!
Great service, and the fact that you know your information is secure is a super plus! Would definitely use this…
Very quick and easy experience. The mailing label was received promptly! Very rewarding!!
Easy peasy, nice and easy. My old cell phone is on its way to help a service member. Thank you…
It was so easy to send our old cell phones to Big Sky Recycling. Loved that you paid the postage…
Very satisfied with the process. Instructions were easy to follow. Love the fact you included the return postage. Thanks for…
Easy to Use! Big Sky made it easy to print a label and ship old cell phones for recycling.
I love the fact that our military and veterans are helped by Big Sky Recycling. The process was quick and…
I donated 8 old cell phones and Big Sky Recycling made it extraordinarily simple!
Very easy to use. Just print shipping label, package up phones and take to post office.
Darn Good!? So far, Big Sky Recycling seems very good. Glad to donate and recycle both. Hope the phones help…
It was easy to request a prepaid mailing label and I'm glad to get rid of my cell phone graveyard…
This was so easy for me to give my unwanted electronics a second chance for someone. Makes me feel good.
It was very easy to work with these folks. I received the prepaid shipping label very quickly, and I was…
You could not have made it any easier to recycle my flip phone! From erasing the data to mailing it…
Easy and I like the idea of helping others.
Quick and easy to recycle my old phones!
Easy to work with.? Rapid e-mail response. Shipping was easy with number of items I sent.
Fast response & easy to use!
Great place to recycle phones. Easy, fast response time. Highly recommend.
I found their service very easy to use. Just print your label and ship.
Was easy and I appreciate being able to recycle electronics.
So glad I found this site. Didn't know what to do with old cell phones. Got rid of them and…
Great experience. Easy to follow instructions. I asked for a receipt and received it within a few days.
Very easy to send and recycle old phones!
That was so easy!? I made a difference and made a green choice with a reputable company. Thank You. Spreading…
It was easy to get the mailing label. The instructions were clear. I did some part of keeping cell phones…
I needed to clear my house of old cell phones and benefit the military; plus I was able to print…
The ease of use for this company is phenomenal. I only had one question of which was answered almost immediately…
Recycling and donating my phones was fast, easy and convenient. Im glad they went to a good cause.
Super easy!? It was simple and easy to follow. So glad to find a place to give the old phones…
Your Data Stays Safe
You can be confident that your personal data is secure. Big Sky Recycling follows strict standards of operation, ensuring data destruction on all recycled cell phones and electronics. For your convenience, we have also provided step-by-step instructions on how to remove accounts and erase data from your cell phone.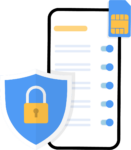 What is a Certified B Corporation?
Certified B Corporations are a new kind of business that balances purpose and profit. We are legally required to consider the impact of our decisions on our employees, customers, suppliers, community, and the environment.
The world?s most challenging problems cannot be solved by government and nonprofits alone. The B Corp community works together towards reduced inequality, lower levels of poverty, a healthier environment and stronger communities.
Stop Collecting, Start Recycling
The average US household has 28 electronic devices, including smartphones, tablets, and laptops.? With an ever increasing supply of new & updated devices, now more than ever before are these devices being thrown away or set aside to collect dust. The?EPA estimates that only 12.5% of e-waste is recycled, leaving millions of pounds disposed of every year.? Big Sky Recycling address this issue and aids in reducing e-waste through the recycling, refurbishing and resale of cell phones and electronics. Do your part to help and start recycling today!